Wall-hung toilets, a trend that is gaining followers
If you have recently scanned any editorial that makes reference to new design trends, you have probably noticed the prominence acquired by suspended furniture like the ones we propose today. Wall-hung toilets and sinks They do not go unnoticed in the modern bathrooms of designer houses.
Compared to conventional toilets, wall-hung ones offer a greater visual lightness and more elegant proportions in terms of design. In addition, they facilitate the cleaning of the bathroom; a practical question that we must not overlook. Its advantages are many, but its installation also implies some inconvenience. At Decoora we show you the pros and cons of a booming trend.
Table of Contents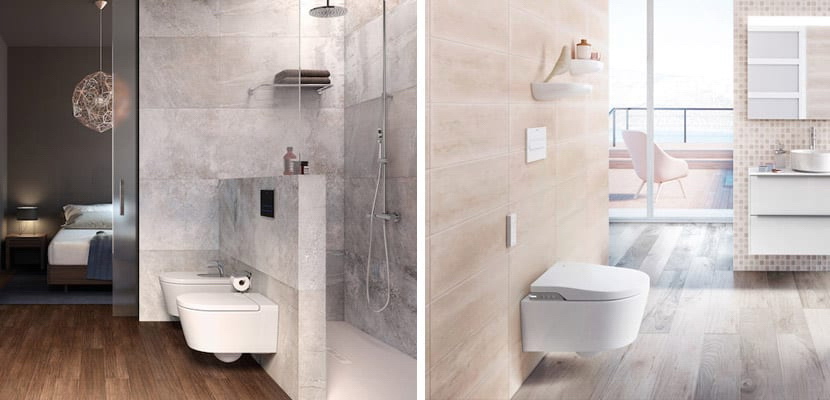 Advantages of wall-hung toilets
It is easy to visually recognize the advantages of suspended furniture; Nobody misses that they are visually lighter. They have 'minimal' shapes that adapt perfectly to modern and contemporary interiors. Beyond design, they also provide us with functional advantages that we also analyze.
1. Suspended toilets are visually very light. They levitate above the ground and have lighter proportions.
2. They have more elegant proportions. By dispensing with the support on the ground and having the cistern hidden, the wall-hung toilets have a cleaner geometry and more elegant proportions than traditional toilets.
3. They allow a better cleaning bathroom. Dirt will not accumulate on the floor as it happens with traditional toilets, and its design will prevent nooks and crannies that are difficult to access and clean. The ease of cleaning is undoubtedly one of its functional advantages to take into account.
4. They can be installed to different heights according to your needs.
5. It is possible to find them in different sizes, the smallest models with small cisterns being the most appropriate for small bathrooms and toilets.

Disadvantages of suspended toilets
Despite the advantages, not everyone opts for suspended toilets when decorating the bathroom. Why? There are some drawbacks that make many continue to prefer traditional systems. Its installation is more complex and its significantly higher cost.
1. Are we losing space? Suspended toilets generally carry a cistern that is hidden in the wall. The finest cisterns do not occupy less than 8 cm. a fact that we must take into account and that may force us to modify the partitions. A modification that we can also take advantage of.
2. Its installation is complex. When the house has masonry blocks, installing this type of toilet is not a quick task. Sometimes the work required for its installation is considerable and involves an extra jack.
3. Requires a higher financial outlay. The complexity of its installation makes its price significantly higher. So can its maintenance. Although all the mechanisms susceptible to breakdown are accessible from the download button; a serious breakdown, you can dismantle the budget.
4. It can generate insecurity. At first, the feeling of being suspended does not please everyone. a minor inconvenience that disappears over time.
Once the advantages and disadvantages of suspended toilets are known, one can realize that they are a great alternative for those who have moderately spacious bathrooms, are willing to touch the partitions and have a generous budget.
Once these conditions have been met and determined to bet on a suspended toilet to gain in lightness and elegance, the next step will be to know the different types of suspended toilets that the market offers us.